With the support of its many customers, Kinsei Seishi achieved its 100th year in business since its founding in Kochi City in 1917. We are dedicated to being a pioneer in the industry by taking on the challenge of anticipating future trends, while carrying on the spirit of technological innovation inherited from our predecessors and taking pride in our long history.
As the first company in Japan to produce nonwoven fabrics using domestically-developed technology, Kinsei Seishi aims to lead other companies in the development of new products together with our customers while unearthing their diverse needs related to a variety of applications, including sanitary, medical, food, filters, wipes, and construction materials. At the same time, we will continue to produce general purpose products and highly functional non-woven fabrics while remaining committed to the value and quality that "Made in Japan" stands for.
A unique characteristic of our company is that it can manufacture products entirely in-house, including everything from supplying raw materials to manufacturing finished products using a variety of non-woven fabric production lines and conversion equipment. Together with our group companies we have a system in place that enables us to respond to any and every demand made by our customers by offering secondary conversion, lamination, and commercialization services in addition to unprocessed nonwoven fabrics.
A company is a group of people. I believe that its full potential can be exploited by uniting the power of each person working there. We at Kinsei Seishi are committed to delivering even better products to Japan and the world by sharing value and putting dependable quality and safe operations first, under the open and transparent labor-management relations.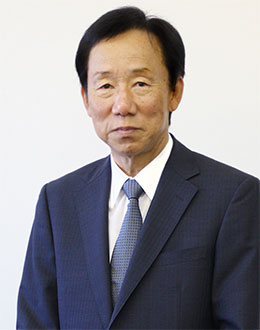 President and
Representative DirectorWataru Takenouchi